ecoCasting - sustainable casting processes
With the ecoCasting manufacturing process, Fritz Winter has created new benchmark standards in the foundry industry for sustainability and quality.
The new casting process from Fritz Winter
Savings in raw materials, emissions, energy, product weight and costs, and at the same time high-quality lightweight products - with the innovative ecoCasting casting process we have revolutionized the iron foundry. The process does not require molding sand. Instead, we cast the iron directly into core packages, thus saving a variety of resources. In line with the objective of our eco solutions, ecoCasting brings economy and ecology into harmony. As a development partner for international customers in the automotive, commercial vehicle and hydraulics industries, we will be pleased to support you in your challenge from the idea to the finished product with this sustainable process.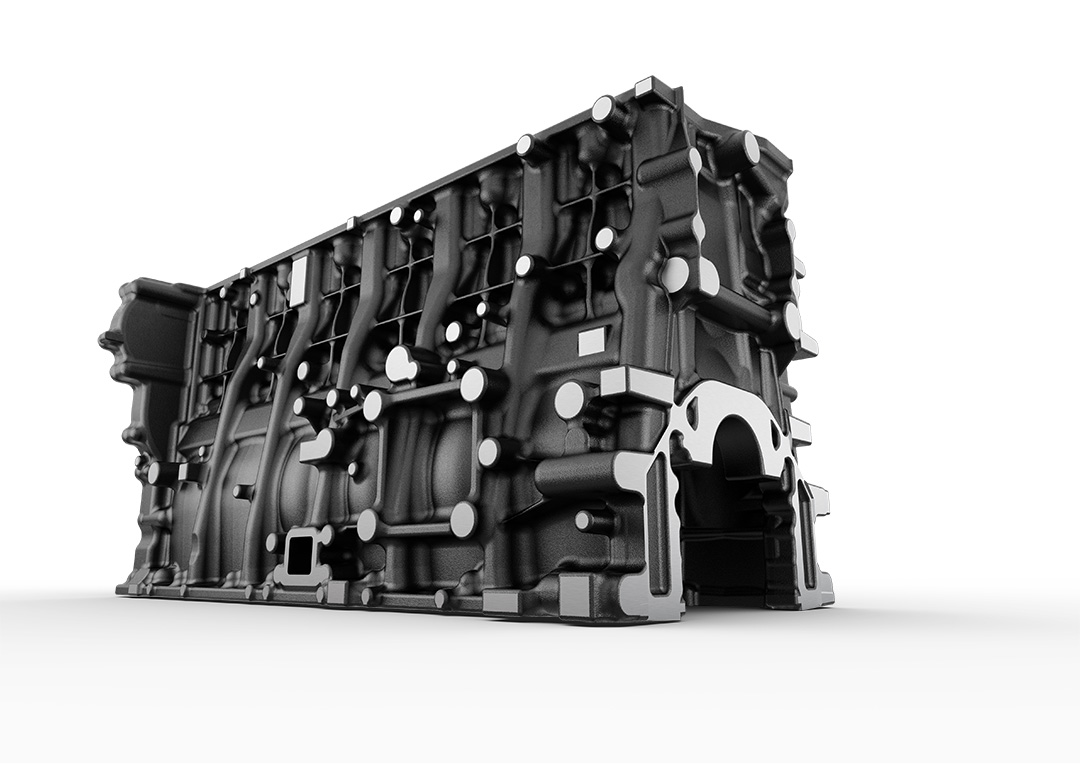 ecoCasting combines economy and ecology
Not only for passenger cars, but also for commercial vehicles the requirements are increasing from an ecological and economic point of view. That is why we have further developed our ecoCasting process for commercial vehicle cylinder blocks. We now enable our customers to use the many advantages of the process also for the development and production of heavy commercial vehicle cylinder blocks made from 100 percent steel scrap. As a modular process, the process is available worldwide and saves water, energy and Co2 thanks to production without molding sand.
Function integration
The ecoCasting process gives us the freedom to integrate certain functions and entire components into the cylinder crankcase to an unprecedented degree.
Lighter products
We sustainably support you in achieving your environmental goals with products that are lighter than a conventional gray cast iron cylinder block.
Lower energy consumption
In the production of one ton of cast iron, we need only one fifth of the energy compared to this amount of aluminum.
Precise wall thickness
Every gram counts for engine blocks. The ecoCasting process creates maximum precision and enables wall thicknesses of only 4 mm with a tolerance of +/-0.7 mm.
Outstanding quality worldwide
The standardization of our processes, tools and quality management guarantees you a high level of process reliability worldwide - from development to the high-quality product.
Sustainable iron casting process
Thanks to the moldless process, the associated mono-sand system, the closed material loop and the use of 100 percent steel scrap, we achieve high savings in resources, energy and water.
Your contact to Fritz Winter
Do you have questions about our ecoCasting manufacturing process? We will be happy to assist you with your request.